Can dogs eat figs? Trimming the long story short, the answer to the question is YES dog can eat figs but in moderation. The figs contain a high amount of dietary fibers suitable for the digestive system, but a high intake of figs can cause stomach problems like diarrhea in the dog.
What is fig?
The fig is a delicious fruit. This fruit has so many tiny seeds in it. And these small seeds give a very different texture to the fig. The name of fig in the world of science is Ficus carica.  And it is from the mulberry family.
The fig plants are cultivated since ancient times for eating and ornamental purposes. Because these plants look very beautiful and also play a very important role to clean the environment.
Fig plant is native to the middle east and Mediterranean. The fig is eaten differently for like dry, fresh, or in jam form. Kids mostly like the figs in jam form.
Nutritional value of figs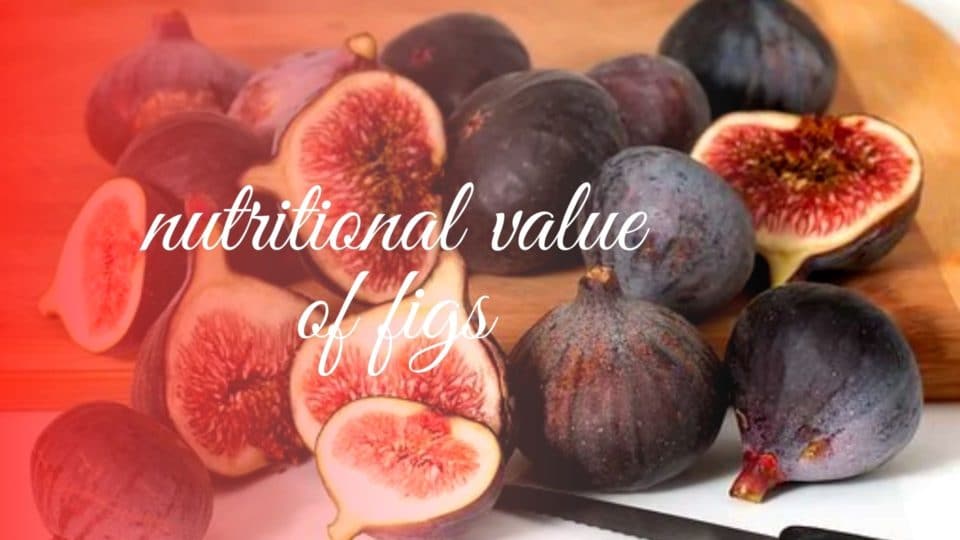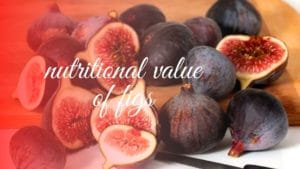 The figs are very rich in so many nutrients like carbohydrates, vitamins, and minerals. Even the 100 grams of figs provide 310kJ(74kcal) energy to you. And other nutrients in the 100 grams of figs are as follows
| | | |
| --- | --- | --- |
| Nutrients | Amount in grams | %age daily value |
| Carbohydrates | 19.2 g | |
| Dietary fibers | 3 g | |
| Fat | 0.3 g | |
| Proteins | 0.8 g | |
| Vitamin A | | 1% |
| Thiamine | 0.6 mg | 5% |
| riboflavin | 0.5 mg | 4% |
| Niacin | 0.4 mg | 3% |
| Vitamin B 6 | | 8% |
| Pantothenic acid | | 6% |
| Folate | | 2% |
| Vitamin C | | 2% |
| Vitamin E | | 1% |
| Vitamin K | | 4% |
| Calcium | 35 mg | 4% |
| Iron | | 3% |
| Magnesium | | 5% |
| Manganese | | 6% |
| Phosphorus | 14 mg | 2% |
| Potassium | | 5% |
| Sodium | 1mg | |
| Zinc | | 2% |
Benefits of figs to dog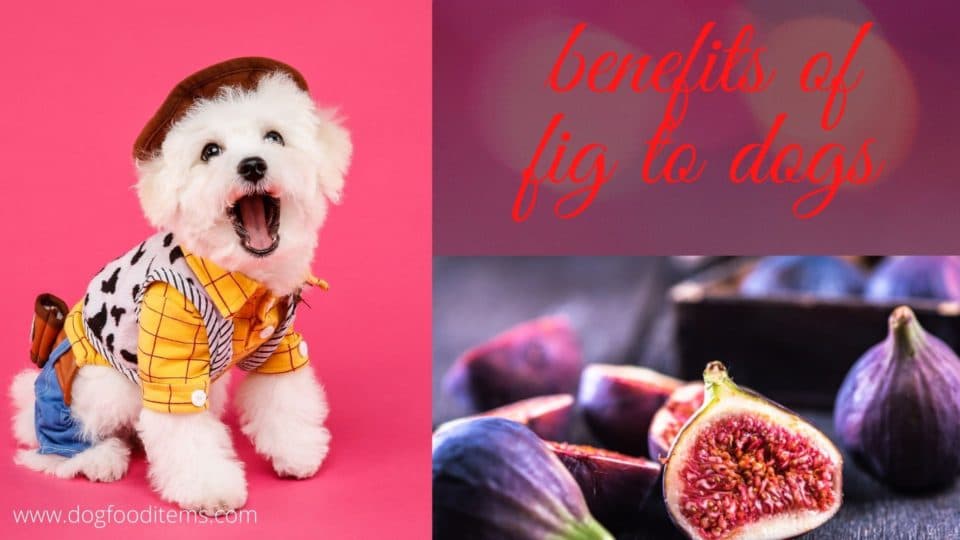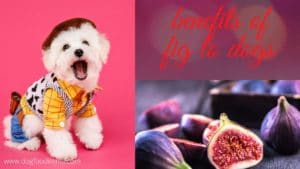 By providing figs to your dog occasionally, you will make your dog enjoy so many health benefits as follows
The sugar present in the figs is the best energy source for your dog, instead of giving him artificial energy drinks. And natural sugar is also responsible for the provision of energy for a long time.
The high fiber content in the figs maintains good health movement and helps the dog treat constipation. So, figs keep the digestive system of the dog healthy.
As the figs are very rich in fibers and sugars, and they will prevent your dog feel hungry again and again.
The potassium in the fig maintains the blood pressure of the dog.
So, it helps to maintain good cardiovascular health.
Serving tip
Only give fresh fig to your dog. Because the dried fig can have a very high sugar content which can be harmful to your dog.
Cut the fig into small pieces and give it to your dog as a snack.
Don't give a whole fig to your dog at once.
You should not give the other products made with figs like cakes because these can contain other ingredients which are harmful to your dog.
Side effects of figs
Figs also have their side effects. The presence of high sugar and fiber content can make your dog face health problems as follows
The Figs contain two enzymes called ficin and ficusin. And these enzymes are potent for the digestive system of the dog.
Giving a high amount of figs to your dog at once can cause stomach upset in your dog, which can lead to diarrhea.
Ingestion of figs can cause rashes, soreness, and inflammation in the dog's mouth.
If your dog has accidentally ingested any part of the fig plant, you can suffer from fig poisoning.
When you give a fig to your dog for the first time, you should provide only a tiny piece of it to ensure that your dog is not allergic to fig.
so, your dog can enjoy the figs but in moderation.
Symptoms by which you can detect that your dog is allergic to fig or not
You can not get the signs in your dog of being allergic to fig. if you find the following symptoms in your dog, it will be possible that your dog is allergic to dogs.
Rashes
Eye irritation
Excessive salivation
Vomiting
Skin inflammation
Wheezing
Cough
Loss of appetite
FAQs
Are dried figs bad for dogs?
Dried figs are never preferred because the sugar content in dried figs is high compared to fresh figs. So, you should always give fresh figs to your dog.
What if my dog ingests too many figs?
The fiber content and sugar content are very high in the figs. So, be careful that your dog doesn't t eat too much fig because it can cause diarrhea in your dog and disturb your dog's sugar level.
And if you come to know that your dog has overeaten figs, take your dog to the vet clinic. So that your dog can be treated soon before having severe health problems.
Conclusion
The figs are safe for dogs but in moderation. You can give figs to your dog occasionally as a snack but regularly. Because the excessive use of fig in a dog's food can cause diarrhea and food poisoning in your dog.
And by closing it, I want to say that don't take risks about your pet's health. Consult the vet and make sure that the food you are giving to your dog is perfectly safe for your dog.