Our dogs are part of the family, and we all want them healthy and active. Dog owners start caring for their dogs when they are puppies and continue until they are an adult dog.
They read the food labels, comparison shop, and ask others for advice about their dog's diet.
Vets are the best source of information about the dog's food, so, you can consult with your vet for more accurate information.
Vet Recommended Dog Food
As a dog owner, when you should choose the best dog food brand for your pet, you need to consider the health and nutritional benefits of that food. Don't take the company name as proof that the food is healthy.
There are many things you need to consider to make sure that the dog food which you are selecting is suitable to fulfil your pet's nutritional requirements.
Start reading the label of dog food carefully and analyze well what's on them.
Best Criteria for Selecting a Dog Food
AAFCO is the American Association of Feed Control Officials.
It's not a government organization but a voluntary quality standard group that arrange nutritional standards for each stage in a pet's life.
Many commercial dog food brands formulate their dog foods for puppies, adult, and mature dogs based on their life stages according to AAFCO's standards.
You must look AAFCO statement on the dog food bag, if it's there it means it's quality food.
How reputable is the dog food company?
Now, in the era of Salmonella contamination scares and melamine pet food, it's challenging to know which brand is the most trustworthy for you.
At some points, almost every food company has a problem of bacterial contamination. That's why there is always a risk that pet food will be recalled.
Decide to have a portion of food for the pups that a trustworthy company makes.

Get a food that passed a verification test (quality control Test)

Food must be labeled by the AAFCO ( Association of American Feed Control Officials). This is an association that helps to control label standards.

If you find a red flag on the packet, then check what is the health risk of eating this food.
Here is a list of best vet recommended dog food brands:
The Top Ten of Vet Recommended Dog Food Brands
Hill's Science Diet
Hill's Science Diet is the best food recommended by the vet.
Since 1930, it has been a forerunner in quality control and AAFCO nutrition standard.
After 2007 melamine scare, they source their raw ingredients from North America and manufacture their all products in the USA.
They offer unique food for healthy dogs of every age and size according to their needs.
Moreover, they diagnose precise nutritional needs that support healthy and strong skin, coat, and stool.
They helped more than 9 million shelters for animals and help them to find a forever home.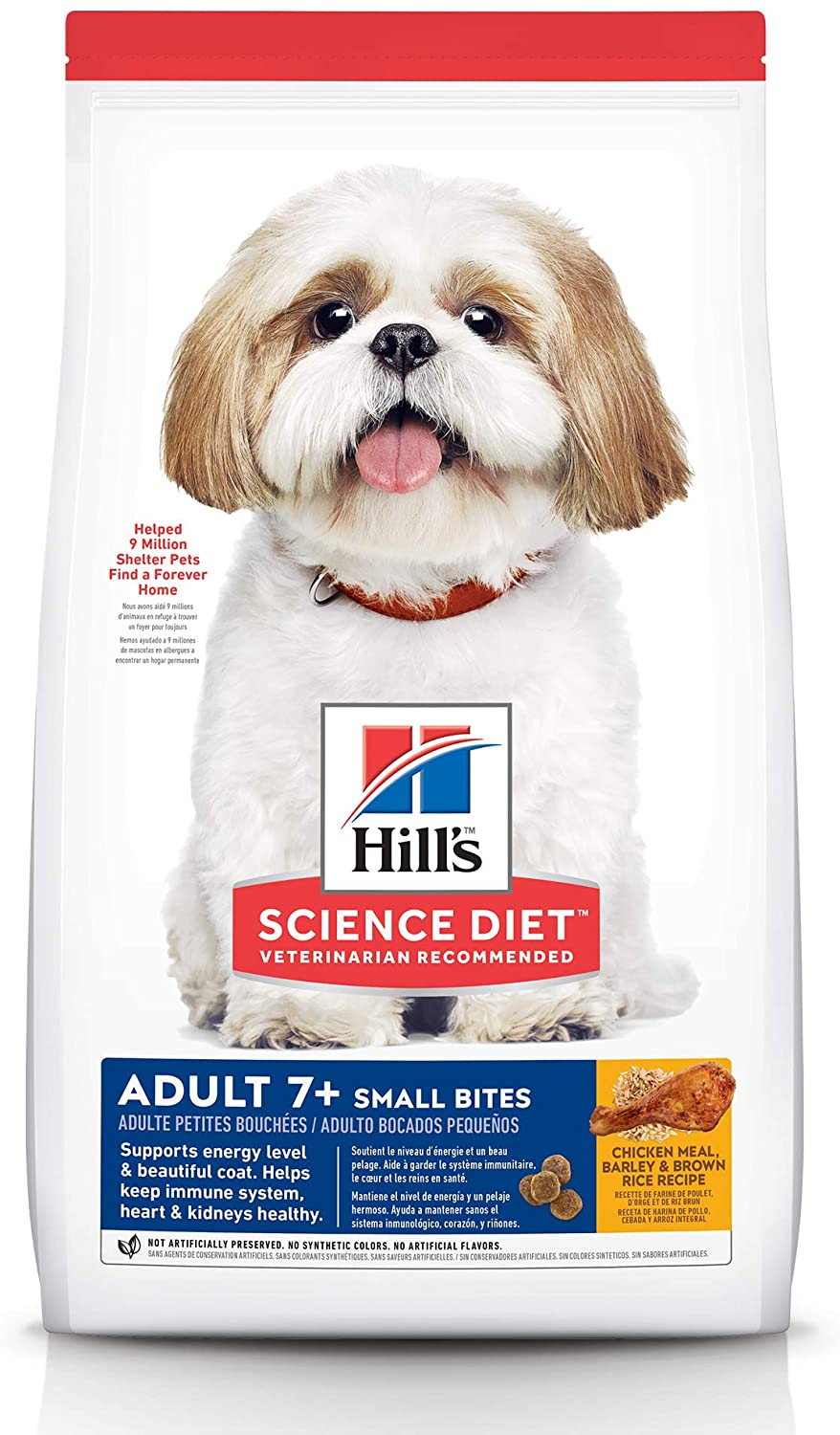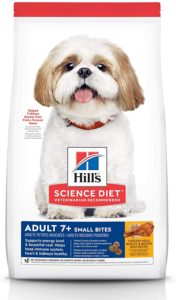 Hill's Science Diet Dry Dog Food
Easy-to-digest ingredients
High-quality protein for lean muscle
Formulated for specific aging needs
Hill's Pet Nutrition always helps to maintain the care and relationship between pet and pet owner to grow their pups in healthy way.
Manufacturers never compromise on the food quality and ingredients always checked the safety of pets according to Hill's veterinarian's instructions.
Ingredients included in Hill's science diet are real chicken, salmon protein and all nutritional components that clinically proven to provide antioxidant benefits.
Food ingredients have no artificial flavor and color and full of amino acids, plus vitamins and minerals.
Royal Canin
Royal Canin is the best dog food after Hill's Science Diet to provide quality and nutrition.
They offer specific foods for specific breeds, which could be very helpful.
The Royal Canin breed specific foods have quite appropriate characteristics because some breeds don't need different nutrients from other breeds.
The Royal Canin Yorkshire terrier dog food is specifically sized and shaped kibble to make it easy to eat dry food for tiny mouths.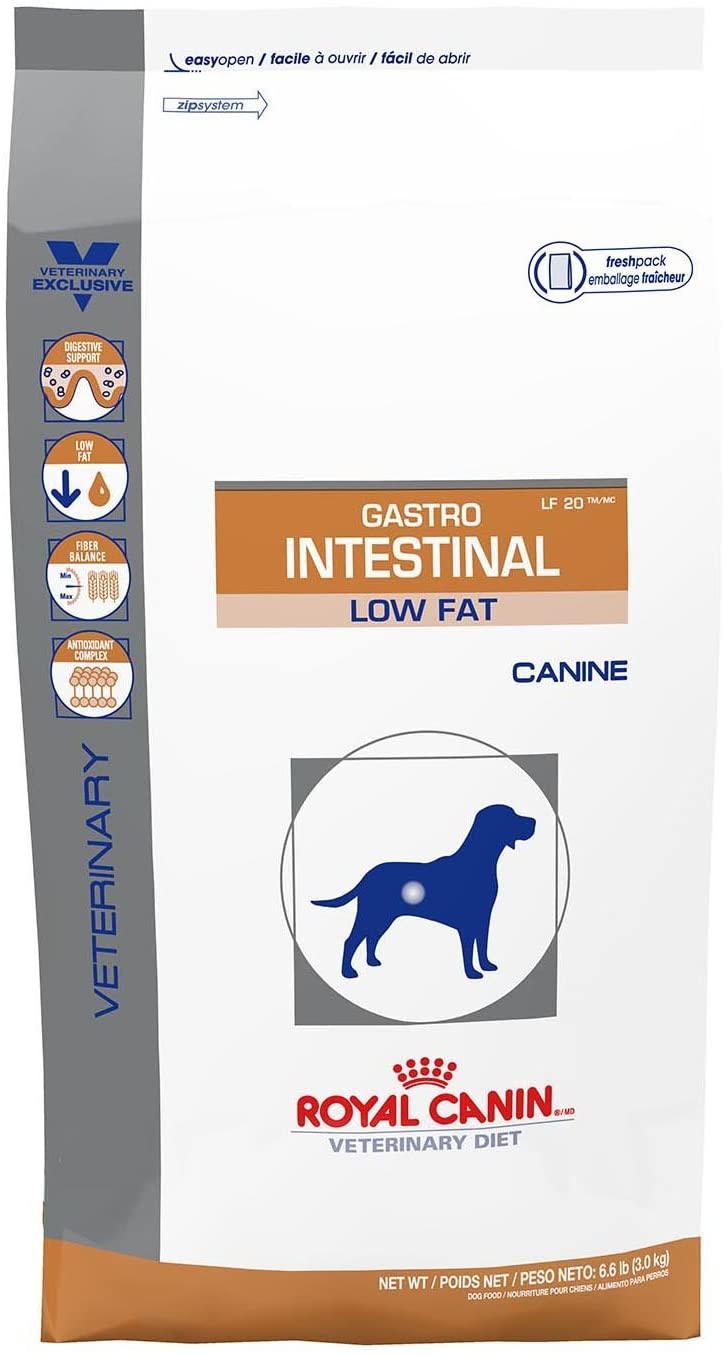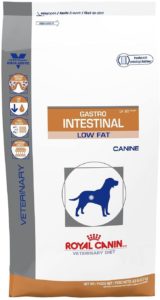 Royal Canin Veterinary Diet (royal canin gastrointestinal high energy diet)
High digestibility and nutrient absorption
Low fiber content
naturally preserved to ensure freshness and quality
It is one of the oldest food companies in North America which provides solid nutrition at a reasonable price.
In the last 80 years, many of the nutritional researches about canine were done by Purina. It is one of the favorite brands of veterinarians.
royal canin gastrointestinal high energy diet always helps to grow dogs, especially when they have poor stomach condition.
high energy diet has low fat to help the puppy to digest it contains 6% protein on the other hand before using any dog food consult to your pet  or dial 800 to get knowledge about governmental requirements.
Orijen
If you have a concern about human-grade food traceability than Orijen is the best food.
It's a Canadian pet food company which is dedicated to sourcing its raw ingredients only from Canada.
On their official website, they properly mention the province where from they source the fish, meats, fruits, and vegetables for its products.
All their products are according to AAFCO standards and Fido's taste test too.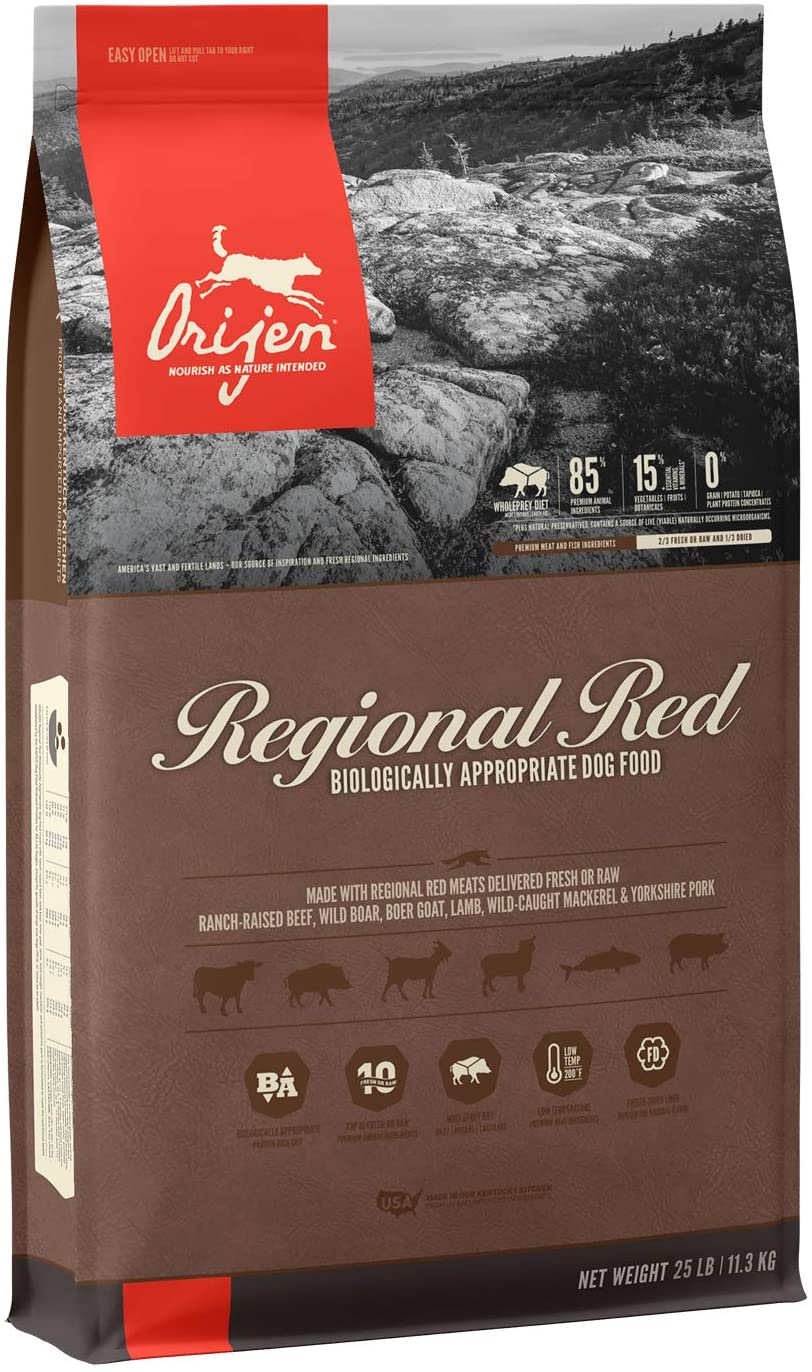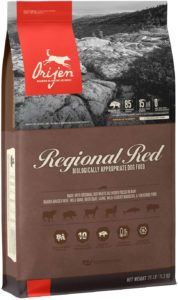 ORIJEN High-Protein, Grain-Free, Premium Quality Meat, Dry Dog Food
High fresh meet inclusion
Loaded with a diversity of animal proteins
Providing nutrients in their most nourishing form.
Orijen is a well known company provide biologically Suitable, grain-free dog food for all life dog stages. They added 85% meet and 15% of vegetables and get the ingredients from 6 different sources ranch-raised beef, plains bison, wild boar,Romney lamb, whole wild pilchard , and Yorkshire pork.
Ingredients used in Orijen dry dog food are meat, cartilage, bone, and organs ORIJEN is the  Appropriate, grain-free diet which is recommended by vets in 2020.
All the components and nutritional ingredients are surely provided by trusted people and keep them fresh at suitable temperatures.
Wellness Natural Food for Dogs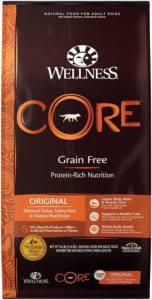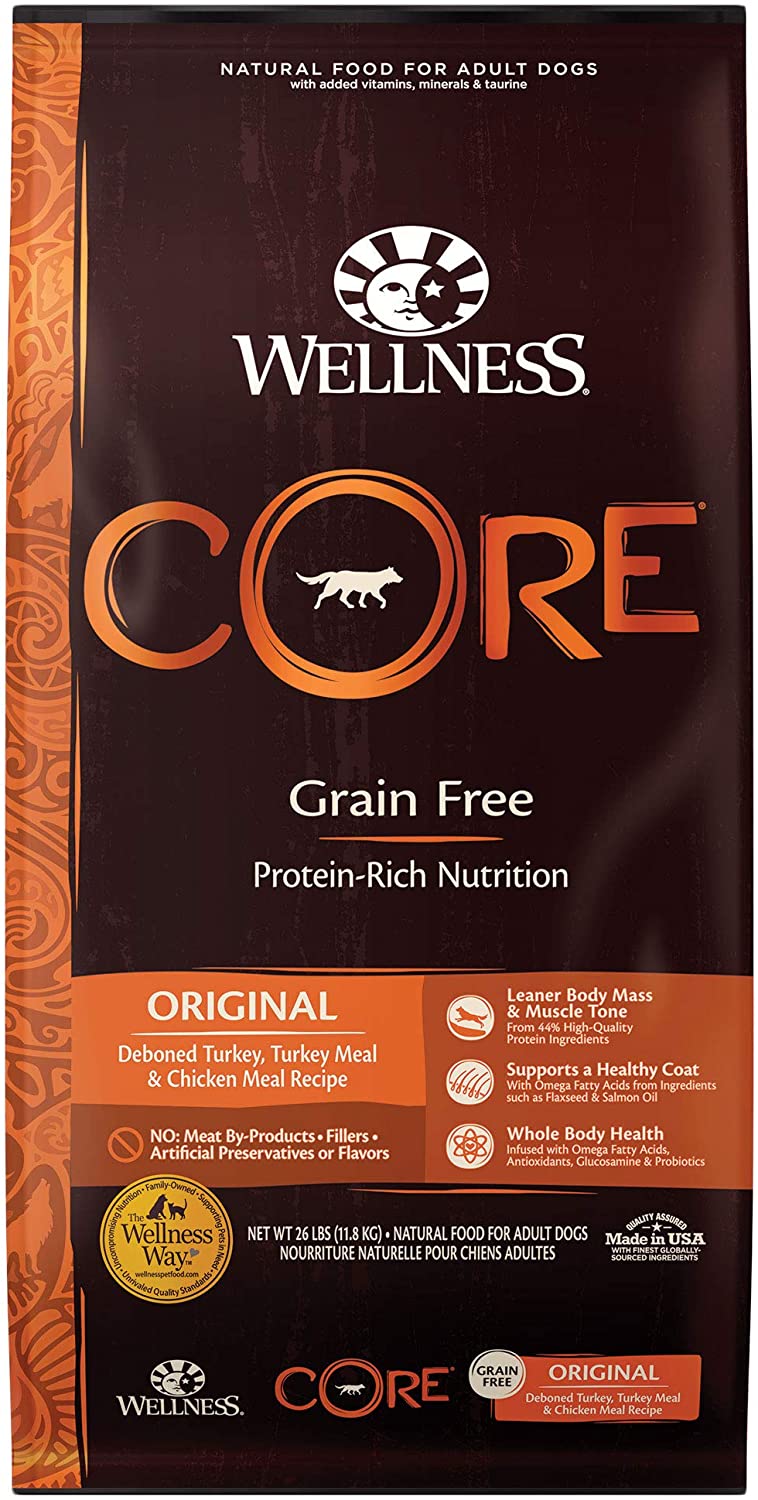 If you are a health nut and need the convenience of a relatively inexpensive commercial food, then Wellness is the best choice for your dog.
It provides whole food nutrition with a balance of omega-3 and omega-6 fatty acids, which is a boost of antioxidants and probiotics for healthy digestion.
They have been in the dog food business from many years and continue to lead the way for many vets recommended dog food brands.
Castor & Pollux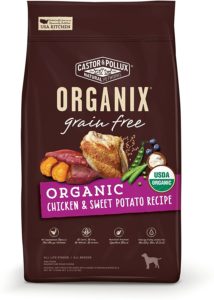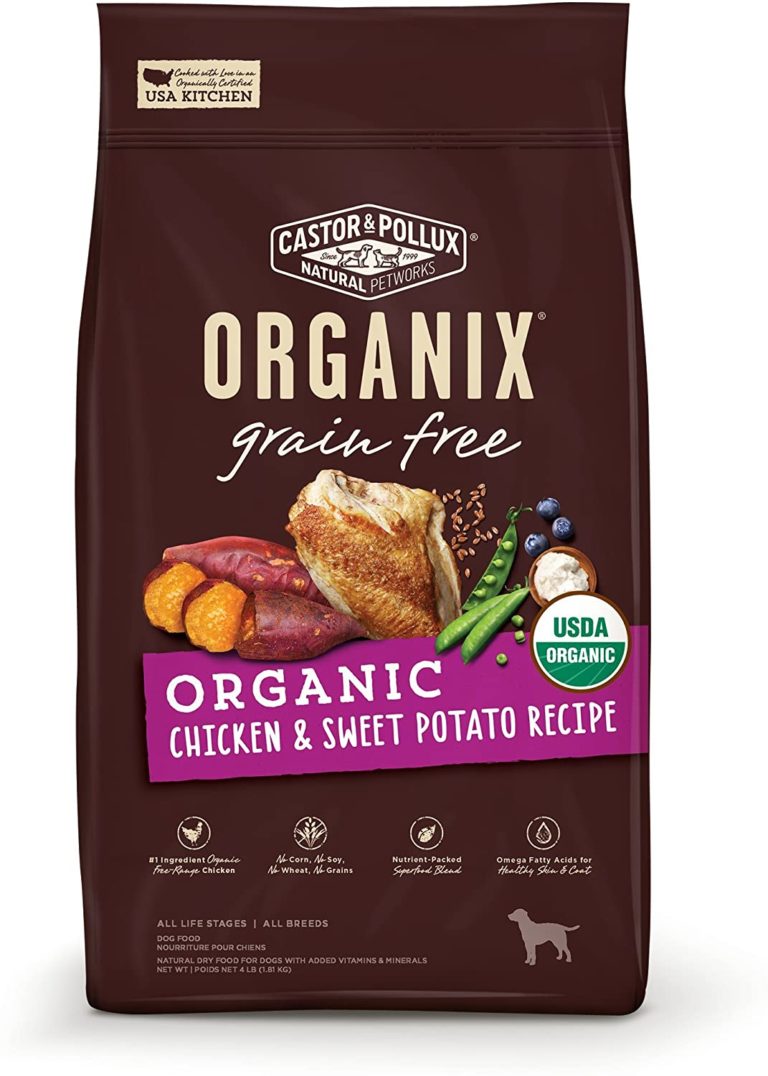 I found my pet some how low in activities I take care of my dog and choose organic chicken and sweet potato recipe.It offers one of the only USDA Organic brands of dog foods. Their canned food resemble with home-cooked "stew" type of meals which is tasty for dogs and pleasing for human eyes.
I am sure your dog will love this brand because it's a great option and has a lot of customer's trust in their future dog food releases.
Iams/ Eukanuba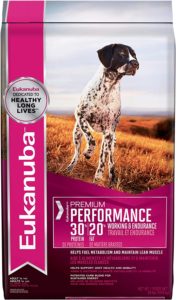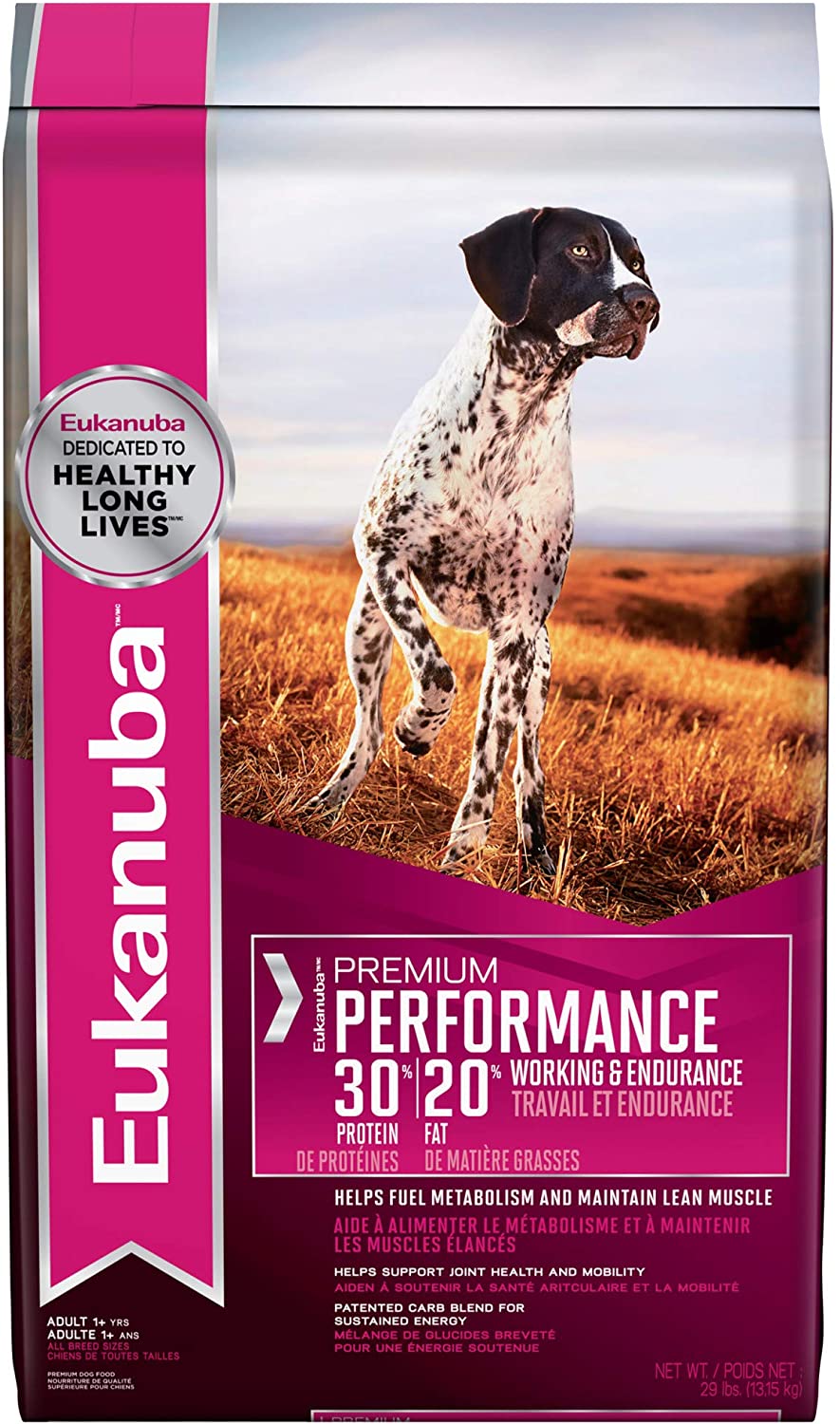 It also offers a variety of foods for specific breeds and dogs with particular medical issues at a reasonable price.
If your dog is a toy breed with sensitive skin that needs a small kibble than Iams/Eukanuba will have the best nutrition for your dog.
The price is also good to at least start it off and see if your dog likes the taste of this dog food brand.
Nutro Ultra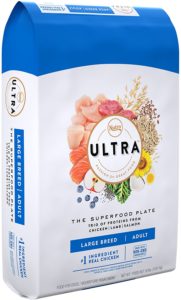 It gives a natural blend of ingredients for optimal nutrition. Nutro Ultra offers several formulas for small and large breeds.
Moreover, it offers grain-free formulas and makes most of its dog food items with grains that are less likely to cause allergies. The main ingredients are whole-grain oats and brown rice.
Many vets recommend this brand as one of the top choices among grain-free dog foods.
The Honest Kitchen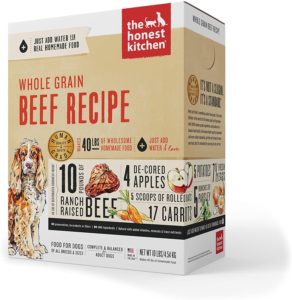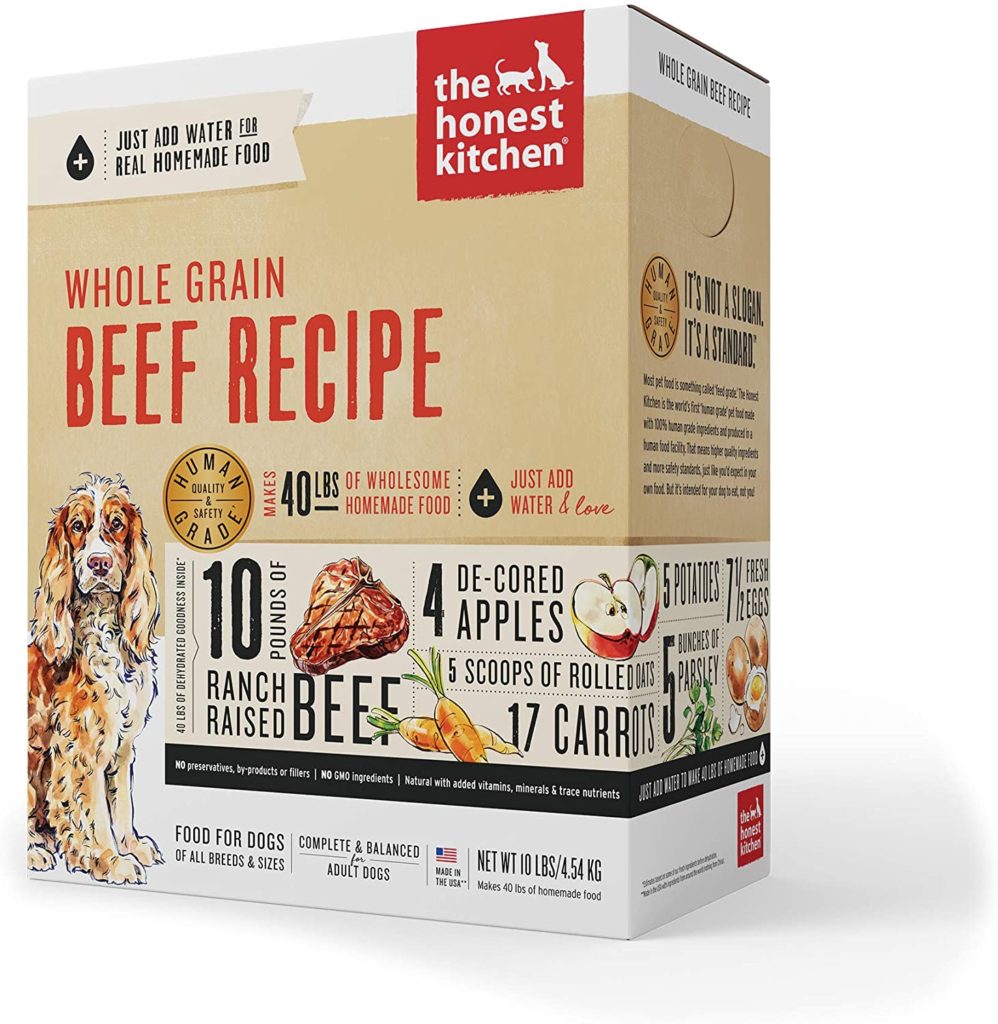 If you like human-grade dog foods for your pet but don't have enough time to cook a balanced diet, then The Honest Kitchen is the best choice for you. It provides balanced, freeze-dried dog food, which makes it easy to cook for your pet's dinner in less time.
They offer low-allergen duck, fish, and whole grains like quinoa. This brand continues to grow and innovate with the human-grade dog food and provide better products for pet owners.
Natural Balance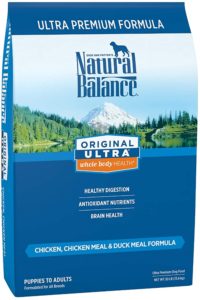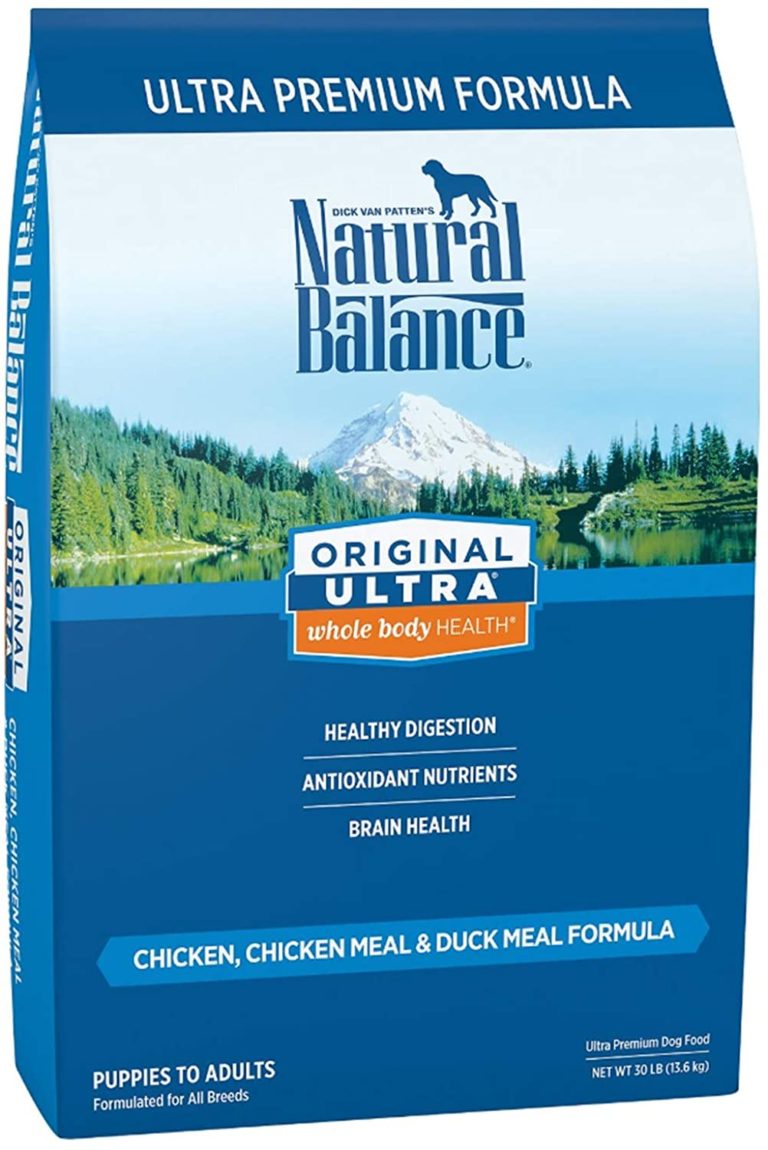 These all are grain-free recipes with meat as their primary ingredient.
They don't use any artificial colors and flavors in their formulas. The offered varieties include venison, duck, chicken, beef, turkey, lamb, bison, fish, and vegetarian recipe.
They also offer food for overweight dogs and dogs with specific dietary needs.
Castor and Pollux Organic Dog Food
This is the best and healthy dog food type contain high amount of healthy materials like protein, Fats and other materials beneficial for your dogs diet. This is made up of vegetable, oil, organic   and some other healthy substances. It does not contain any toxic substance that is dangerous for your dogs health. Castor and Pollux Organic Dog Food make your dog healthy and shiny.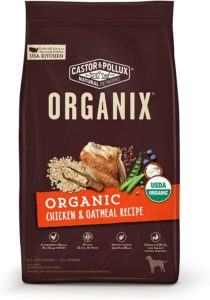 Made by organic meet
Contain healthy vegetables, fruits and oil
Loaded with High quality protein
Be an Investigator
Do some research before choosing any dog food item for your pet. Check what types of proteins are right for your dog breed and size.
If your dog wants canned food or kibble, find it more likely for your dog.
Are raw food diets and supplements necessary?
Normally, a pet's food is decided according to the nutritional requirements.
You can give dry or wet food according to the pet's needs.
Some people think home-based frozen food is more suitable for dogs. On this diet, they add eggs, vegetables, fruits, and many more nutritious foods.
However, some vet experts restrict this type of diet, and they advise giving food after processing properly. Because direct animal-source protein is dangerous for the pups, available pathogens can cause illness and other side effects.
Conclusion
Keeping your dogs' healthy start with the food you give them every day.
You should always be a good caretaker of your dog, and that's starts with researching the many diets and foods available in the market. So, always choose the best food for your dog according to their nutritional requirements.