Treat dispensing toys are essential for people with their active dogs.
Your dog will love these toys because they are full of fun and food.
You also love these toys because they keep your dog happy and busy.
Moreover, experts and dog behaviorists recommend these food toys to provide mental stimulation and divert their unwanted behavior.
Here, you should learn about treat-dispensing toys, how you should choose the right one for your dog?
Working of Treat-dispensing Toys
These toys are not just for food; they are also designed to keep your dog active and busy.
It's a perfect choice for a dog that makes mischief when they get bored or become destructive when you left them alone.
If your dog eats too fast, then these toys are beneficial because they force to eat one bite at a time.
Training tips for interactive dog toys
If you have never used these toys with your dog, you need to teach them how to use it. Here are some training tips for using treat-dispensing toys:
In the very first time, you need to use high value treats, for example, strong-smelling soft treats that could be cut into small pieces.
When your dog gets the awareness of things, you should mix up different types of treats. Even your dog can feed full meal with this toy which is full of kibble.
Start from easy steps then increase the difficulty to train your dog in using interactive dog toys.
Place treats under or next to the toy before filling it than your dog will sniff the toy.
Always start from the most comfortable setting.
Many toys have a setting that makes the puzzle easier or difficult to solve. You should increase and decrease the size of the treat-dispensing hole.
Sometimes your dog gets the hang of things quickly, but other times he needs you to show him how to access the food.
You should try different kinds of treat-dispensing toys until you get the best one for your dog.
These toys come in different shapes, sizes, and level.
Choose the best one for your dog.
Buster Cube
Buster Cube is the original treat-dispensing toy that could be filled with treats or plain old kibble.
Dogs will have to nudge it over with their nose and toss it in the room to get treats to fall out.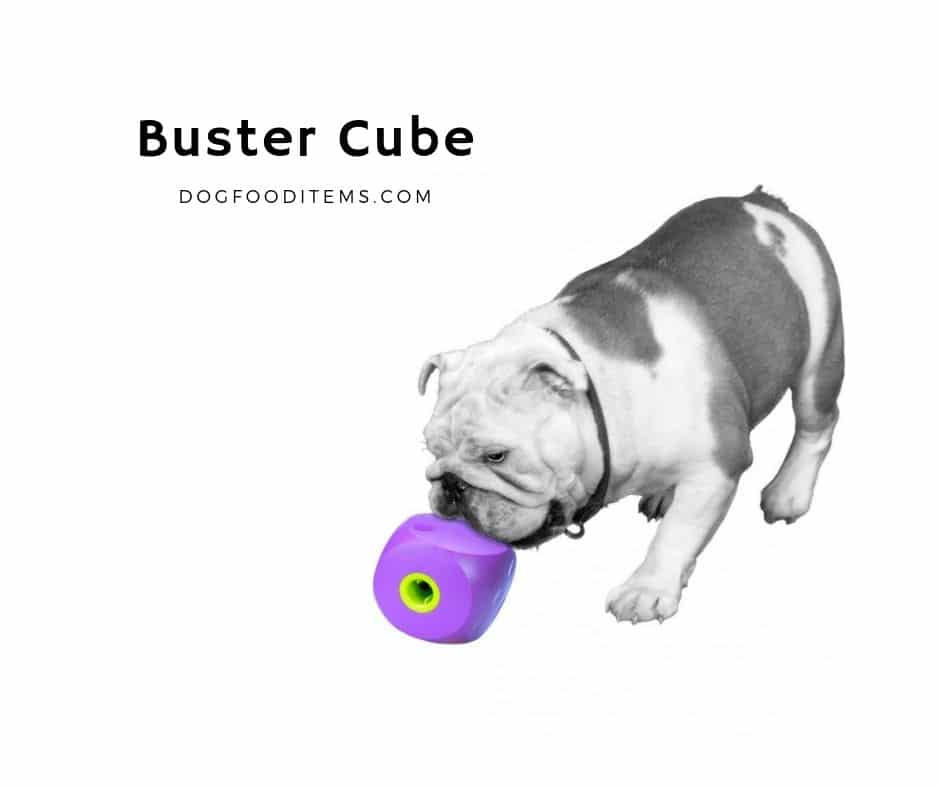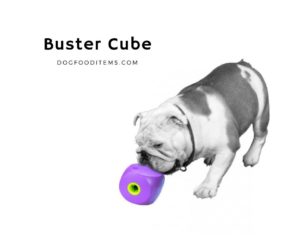 You can adjust different levels by turning the cylinder in the center of the cube.
In this way, the hole becomes smaller and shaking out some pieces at a time.
Best Use:
It will help to make active your dogs who want to stay busy
The dogs need to eat slowly
Not ideal for:
It's not suitable for small dogs
For that dog who is sensitive to noise. This toy is made up of hard plastic so that it could be loud. If your dog is noise-sensitive, use it in a carpeted room
To keep the Buster Cube neat and clean, remove its inner cylinder.
West Paw Qwizl Treat Dispensing Toy
This flexing, bouncing, and the floating toy is the best for dogs who love to chew.
You can put smaller treats in the middle slot for your dog to extract through play. For a long-lasting chew challenge, you can push a stick chew through vertically.
It also extends the life of jerky chews and bullies sticks that keep your active dog occupied so you may get stuff done.
Best for: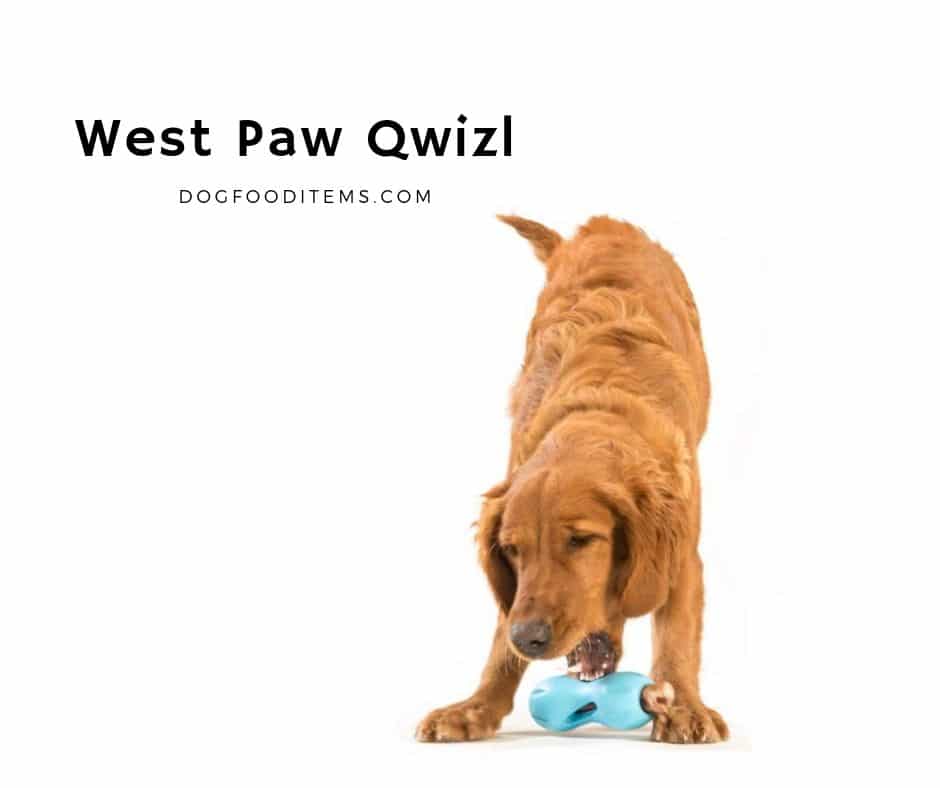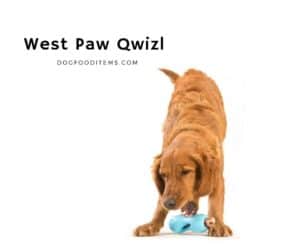 It is suitable for dogs that are active chewers. Push a bully stick and let your dog go to town.
It's good for dogs who love to play. It is a fun toy for playing fetch when the treat is gone.
Not ideal for
The dogs having sensitive teeth
For super-strong chewers who can bite of rubber pieces
For easy cleaning, toss the Qwizl in the dishwasher.
Trixie Pet Products Flip Board
This fantastic toy is best for smart dogs who need to slow down at mealtime. It is made up of flip cones and sliding covers to challenge your dog's problem-solving skills. When dogs open a compartment, they rewarded with a yummy treat. It becomes a new challenge every time by changing the number and placement of treats.
Best for:
The dogs who like to eat quickly
Savvy dogs who enjoy a challenge
Not ideal for:
The dogs who get frustrated and flip the whole thing over
The dogs having a flat face who may have a problem in pushing the sliders with their nose
You must use a variety of treats and foods for a multi sensory experience.
StarMark Bob-A-Lot Interactive Dog Toy
This classic toy has a weighted and anti-slip bottom that makes it uncontrollably wobble.
Its unpredictable movement makes it a lot of fun for dogs.
The large capacity of the toy means you can use it to dispense meal.
Moreover, this toy also has adjustable openings at the top and bottom to accommodate the size of food and regulate the hard levels.
Best for:
It is best for high energy dogs that need exercise alongside their snacks
Best for small places. It is designed to wobble in a place, so your dog will remain active without requiring a whole room
Not ideal for
It is not suitable for super chewers. It's only for play, not for chewing.
To keep the toy neat and clean-rinsing it in hot water and vinegar.
OurPets IQ Treat Ball
Treat ball, and Buster Cube is from the same company, but it's a blocky cousin, it ROLLS!
This ball rewards your dog for playing, dropping treats in the shape of ball rolls.
The internal disk of the ball can adjust to change the difficulty level. You can fill the ball with a full meal or treats.
Best for:    It is best for:
Medium-sized dogs Dogs who love to chase
The dogs who want a slow feeder that keep them moving
Not ideal for:
It's not suitable for toy breeds whose small jaws get stuck in the opening
Old age pets who have difficulty chasing after the ball
If you have wooden or tiled floors and feel the ball too loud, stretch an old sock over the ball and cut off the area covering the food hole.
It will lower down the sound and give your dog an extra thing to hold on to.
Treat-Dispensing Teeth-Cleaning Ball
It is a spongy rubber ball which has soft teeth that do the double-duty.
It holds the treats and kibble in a place and provides a pleasurable chew for your dog. All-natural rubber stands up to good chewing; it is gentle on teeth and gums. The best thing is that it is a multitasker. When the treatment time over, it's a fun, bouncy fetch ball.
Best for:
It's best for old age dogs who want a teeth-friendly challenge
Pups who love to play
Not ideal for:
Put peanut butter between the rubber teeth for a long-lasting treat.
Conclusion
If you are in the market to buy treat-dispensing toys for your dog, these are some best toys for your lovely pet. However, many other toys are also available in the market. Different dogs like different kinds of toys don't be afraid to buy different types of treat-dispensing dog toys.